Find another way to keep your dog company !

FEATURE:
Reduce stress, keep your dog active and no more boredom.
See how much fun your dog will have when he fetches the ball back to the toy to get his award.
Your dog will love this automatic feeding interactive toy very much.
Drive your pet to exercise more and maintain health.
Easy to use and no electricity required.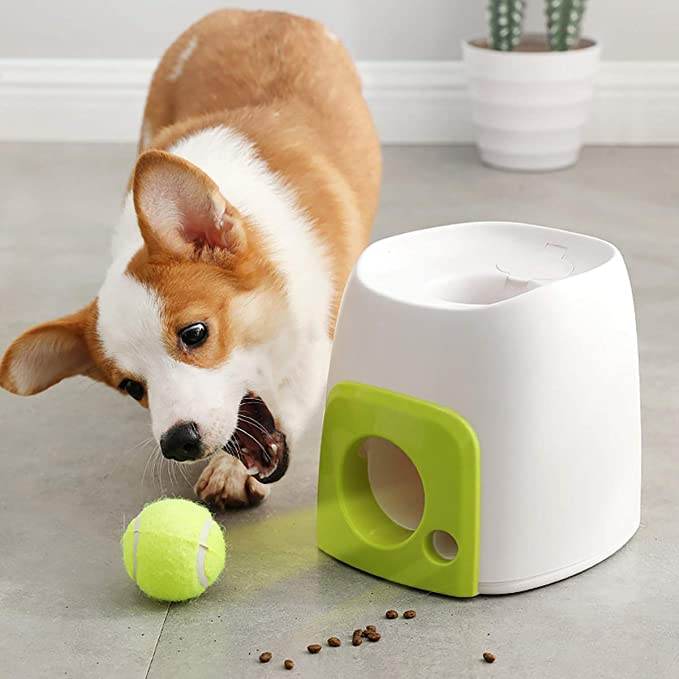 Introducing the Tennis Ball Launcher, the perfect accessory for any tennis lover!
This launcher allows you to easily launch tennis balls for your dog to fetch, saving your arm from the repetitive strain of throwing balls. It is lightweight and easy to use, simply load a tennis ball into the launcher and pull the trigger to launch the ball up to 50 yards. The launcher is made with durable materials and can hold up to 3 tennis balls at a time.
Suitable For All Types Of Dogs
Whether your dog is a small Chihuahua or a large German Shepard, the Tennis Ball Launcher will cater to any dog of any size. The height of the ball 'drop zone' is short enough for smaller dogs to reach yet tall enough not to make it awkward for the large ones.
For Use Both Outside and Inside
Not everyone has a garden or large rooms, and therefore we have made sure that our Tennis Ball Launcher can be used in both inside and outside settings. The throwing power of the launcher is not strong enough to break any valuables indoors yet does provide enough strength to catapult the soft tennis balls forward of distances up to nine meters (thirty feet)
Overview:
HAVE YOU TIRED OF THROWING BALLS FOR YOUR DOG?
Don't worry. This Automatic Interactive Ball Launcher with be doing it for you! This toy will keep your dog active for hours and dogs have so much fun with this innovation and fun toy. Your doggy can now play fetch all day long!
Keep your dog happy and healthy when you have to be away from them. Now you don't have to feel guilty because they will have so much fun with their new toy and it will keep them busy!
Specification:
Product Category: Throwing Toys
Material: ABS
Specification: yellow
Size:30*29.5*25cm
Package Content:
Automatic Ball Launcher*1
Mini tennis balls*3
Adapter*1
User Manual*1