We are committed to research and development Women's Extra-Large Size Underwear – Only for the big beautiful queen!
Innovative Technology That Blocks Leaks
How does Leakproof Panties Work?
Our panties come with three layers of leak-proof protection material:
Close to skin: Comfortable Fabric Layer
We make our panties of 95% cotton and 5% spandex to give you ultimate comfort, dry, with Maximum Coverage
Middle: Hygroscopic and Leakproof Layer
2022 Latest development of leak-proof materials, Quick absorbs 30-50 mL of liquid and locks them in, which is equivalent to 2-3 standard tampons or pads. And keep your panties dry all the day!
Outermost Layer: Breathable Antibacterial Layer
Panties from odor-suppressing textile that keeps all your smells from spreading.24 hours strong antibacterial, close protection, away from itching
Washable & Reusable
You don't need to worry about replacing your leak-proof panties because you can machine-wash them as many times as you want without losing their effectiveness.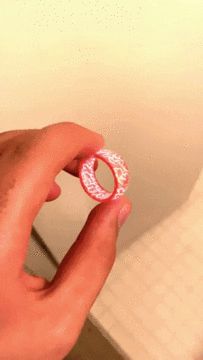 Perfect Choice
Gift idea for your female friends/mother/Grandma. The cotton briefs are especially suitable for new mums. Make you more confident without a muffin top. Also suitable for postpartum c-section and abdominal surgery recovery. Works well with dresses/high-waisted jeans, too. Christmas thanksgiving new year gifts.
Material & Washing
95% Cotton, 5% Spandex of Women's Underwear Multipack.
Machine wash cold with laundry bag (30°C) and like colors.
Only non-chlorine bleach.
Lay flat to dry.
About CLOSET UNDERWEAR ORGANIZER
Closet Underwear Organizer helps to create containment and give every tiny garment a proper home!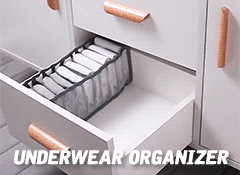 You can quickly find everything you need with this organizer. We've got you 3 sizes of boxes which are perfect forstoring socks, underpants, bras, scarves, ties, baby items, etc. It is deep enough for a large carrying capacity. You can add or take away these organizers to your drawers as you like!
It is made of long-lasting mesh fabric which is durable, mold-free, and bacteria-free to ensure the hygiene of storage. It is lightweight, foldable & washable that can maintain its own shape for repeating use.
Make calm out of the usual chaos! Don't hesitate to grab yours!

SPECIFICATIONS:
Material: Mesh + PP
Color: Gray/Black/White
Type: 6 Cells/7 Cells/11 Cells/1 Set-3 Pcs