WITH OUR GLUTEUP MICROCURRENT HIPLIFT TRAINER YOU CAN GET YOUR HIP LIFTED. CHECK OUR HAPPY CUSTOMER NOW.
I love this product definitely worth the money. I was on the fence about it but after reading other reviews I said I would give it a try and I'm so glad I did. I have always been fit and had a plump hump and perfect shape hip but after I had my daughter, I'm not sure why but it just had gotten flattered so I needed a little help while trying to rebuild it with my hump and hip workouts (which is recommended while using this product for best results) and I have definitely received my desired results.Precious Johnson34, Elizabethtown, Kentucky
I bought this product because I see a photo result of this ladys cellulite reduction. After just two days of using, I have seen results. Im impressed. I notice the products effectiveness when I use it when my skin is a bit damp, before and after my shower. The stimulating sensation can be a bit intense. I wish the product will be use of a lot of people. But, other than that, I am happy with my purchase. Emma, London
The GluteUP Microcurrent HipLift Trainer is easy to use. Vibrating massages the body, for the whole body, and helps awaken other parts of normal function to alleviate fatigue, Fast massage your hips and lift your buttock. Also, can be better to firm loose skin, enhance bodybuilding, and relieve muscle soreness and stiffness as well.
HOW Microcurrent WORKS
HOW DOES MICROCURRENT WORK
Microcurrent is a perfect product designed for hips. It effectively improves the hip line, releases pressure, and lifts the hip muscle. It helps to tighten and shape the muscle while maintaining the natural curve of the body. EMS can help regulate, tighten and firm the buttocks to help shape the curves of the hip and create the perfect body. it sends the signal directly to the muscles and promotes the movement of the muscles.
Microcurrent training also brings other health benefits:
Elimination of incontinence problems
Positive effects on blood vessels
Noticeable effects on the human psyche and general well-being.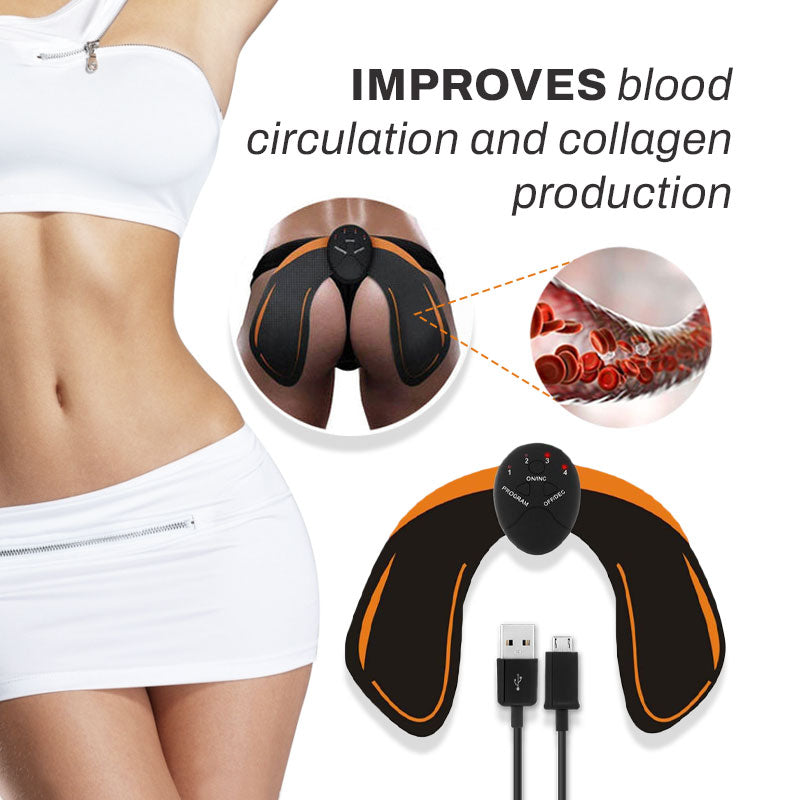 FIRMER, SMOOTHER AND FULLER HIPS IN AN EASY WAY!
GluteUP Microcurrent HipLift Trainer can help you tone, tighten and firm your hips and buttocks that you've always wanted. With U-shaped filling for the hip. The butt and thigh lift kit turns a flat, saggy back into a round, firm, toned, and bikini-shaped shape! Lightweight and compact, no need for strong exercise, easy to shape buttock.
Get the attention all around you! Make men notice how curvy and fit you are. With 4 modes and intensity, it can help to reduce fat, tone, tighten and firm for more visible and fuller hips and buttocks.
Lift up hips to make them plump and elastic.
Microcurrent directly transmits signals to the muscles through current stimulation
Improves blood circulation
Enhances collagen production
Massage the buttocks muscles to achieve muscle strengthening.
Promotes muscle movement to achieve a lifting effect.
HERE ARE SOME OF OUR HAPPY CUSTOMERS!
I am honestly in awe by the wonders of this product. I am a very skeptical person when it comes to anything regarding physical cosmetic. So, I honestly purchased this product with all the doubt in the world even after doing research outside of Amazon reviews. I've been using this product for almost 3 weeks and I am seeing results in firming, smoothing and lifting. Trust me when I say it works. I use the cream twice daily and I do minimum lower body exercise as this helps the cream to work faster and better. Great product! Gianna, Madrid
EASY TO USE
Assemble the host device.
Peel off the adhesive pads.
Press the button on the device, make sure the light is on.
Attach the pads onto your hips.
Package Includes :
1 / 2 / 3 pcs x Batteries(AAA) / USB Charging